Business Insurance
Business Insurance Including Commercial Property, Casualty, Liability, Auto and Worker's Comp Insurance in Warrenton, VA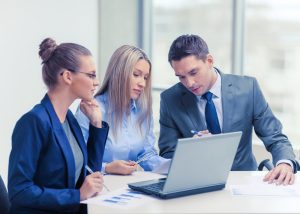 Business and Property Insurance – Commercial property insurance in VA comes in many types, shapes and sizes.  It ranges from the Building you own to your Business Personal Property (furnishings, fixtures and inventory), Electronic Equipment and Improvements you made to space you rent. Critically, it may also include the Business Income you need when your business is unable to operate following a direct loss.
Commercial General Liability – This coverage protects your business from allegations of negligence that result in Bodily Injury or Property Damage to others.  To many businesses, the coverage for their Products and Completed Operations are essential to their ability to operate in the marketplace.
Commercial Automobile – Whether your business owns one car of a fleet of vehicles – or even if you just have employees driving on your behalf, Commercial Auto liability is essential to protecting you from liabilities resulting from accidents.  The damage to the vehicles your business owns is covered through Physical Damage coverage.
Workers' Compensation – Protects your employees from medical expenses and lost wages because of a workplace injury or illness that resulted from their job duties.  While the number of employees before you are required to purchase may vary by state, every state has a Workers 'Compensation requirement and five (5) states also require non-occupational disability coverage as well.
Umbrella Liability – This policy is designed to provide an additional layer of liability protection over the Commercial General Liability, Commercial Auto and the Employers' Liability coverage section of the Workers' Compensation policy.
Bonds – This type of coverage pays your obligation to a third party if you default on your obligations.  Because there are three parties – your business or you directly, the firm receiving the promise (the obligee) and the firm backing the promise (the surety) – it is considered a surety product rather than an insurance policy.  Insurance policies are between two (2) parties – your company and the insurance company.
Professional Liability – often referred to as an Errors and Omissions policy, this coverage is protection for your company against allegations that your errors, omissions or other types of "wrongful acts" that resulted in financial harm to a third party.
Cyber Liability / Data Security Policy – today's environment of hackers and other forms of cyber terrorism has launched this newer form of insurance.  This type of policy focuses on a breach of your computer system that results in the capture of an individual's private data including dates of birth, social security numbers and other forms of Personally Identifiable Information (PII).  It can also apply to a breach of sensitive business data.  The policy can offer a liability limit for suits from parties that were breached, the funds to meet regulatory notification requirements and expenses related to the breach that your business incurs directly.
Executive Protection – several different types of insurance fall under this category including:
Directors and Officers Liability – Protects owners, managers and your board of directors from allegations of mismanagement that result in financial harm to the public or to stakeholders. At one time, this coverage was almost entirely purchased by public companies but now it is an essential coverage for nonprofit organizations and private companies.
Employment Practices Liability – As managing people has grown more complex, this form of insurance has proved valuable to employers. It offers liability and defense coverage in the event of allegations stemming from Discrimination, Sexual Harassment or Wrongful Termination of an Employment Contract.
Fiduciary Liability – If your company offers an ERISA based plan (e.g. 401k), this policy provides coverage for Errors and Omissions in the administration of those types of plans. It is particularly important for plan trustees as they can be held personally liable even if a third party is used for plan administration.
Crime Insurance – Also known as Fidelity Insurance – protects businesses in the event an employee steals money, merchandise or securities from the employer. It can also be extended to include stealing from a customer by an employee (3rd party).  The coverage has evolved so that it can be extended to include the many forms of theft that now occur including fraudulent deception and impersonation.
Group Benefits
Group Health – Forming a group to purchase Medical coverage for individuals, married couples and families is a key benefit that can attract and retain employees. There are many variables including deductibles, co-payments and limits of coverage that need to be tailored to the employer's objectives and budget.
Group Life – Like Group Health, this coverage is an important opportunity for employers to purchase or provide life insurance protection to their employees.  It can offer more flexible underwriting guidelines and competitive rates than can be achieved through an individual purchase.
Group Dental – An employer group can also purchase dental coverage on a group basis.  These types of plan provide coverage for both maintenance, preventive and emergency dental care.
Group Long Term Care – As with other employer formed plans, purchasing as a group can make this type of coverage more available and affordable to employees than it would be if purchased on an individual basis.  Importantly, this coverage may apply to any type of stay in a rehabilitation facility – regardless of age.  Long term care costs have escalated substantially in the last decade and it is projected that they will continue so it is an important issue that can be addressed on a group basis.
Disclaimer
The definitions above are intended for information purposes only. Actual policy terms, conditions and exclusions of the actual polices may alter the definitions provided.